Whew, what a mouthful of a title!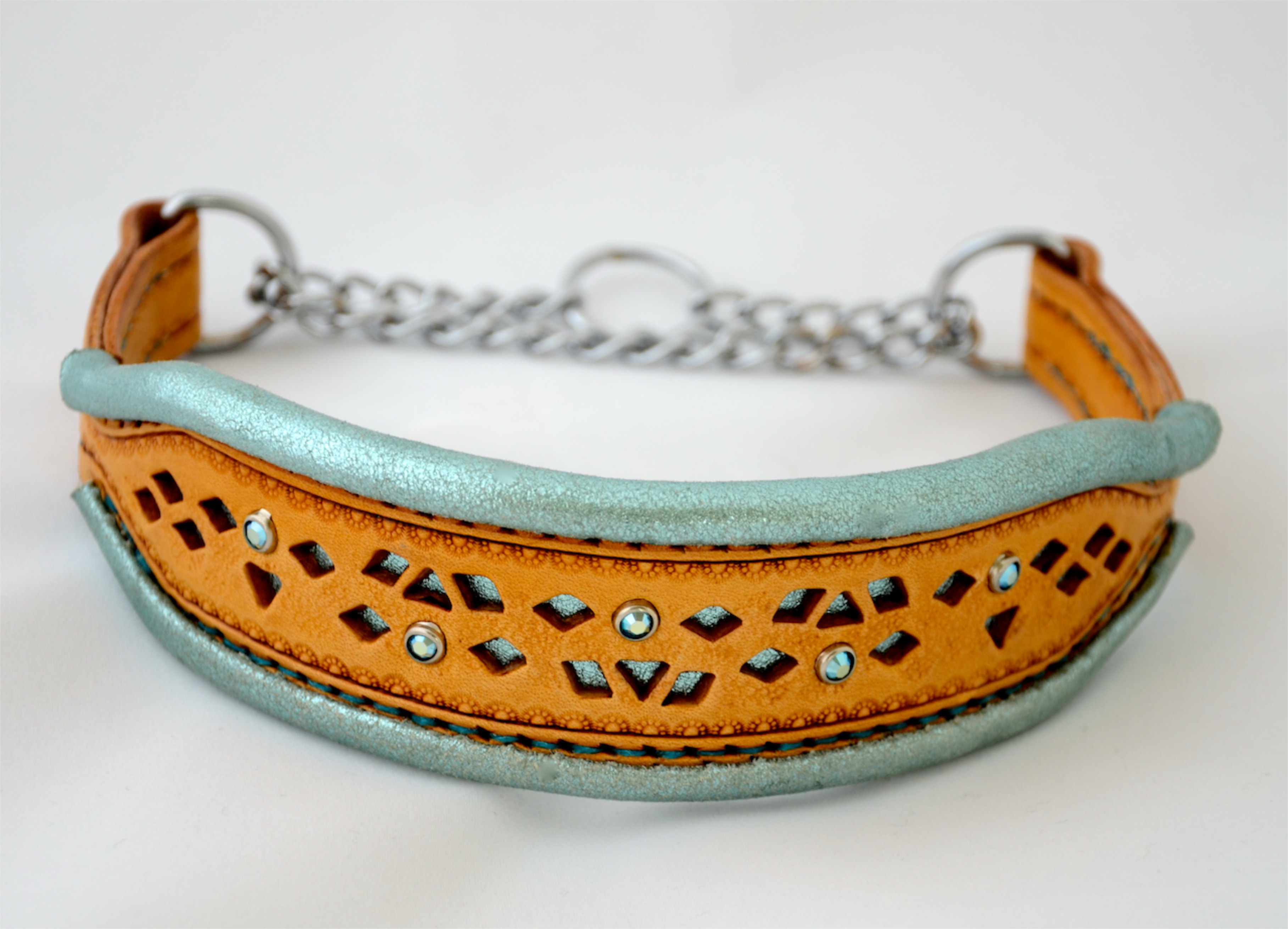 I was itching to try something new on a dog collar, and this project was a first for many techniques. I had a great deal of fun, and my fingertips are covered in a film of superglue that I think will take days to wash off!
1. Rolled edges – Inspired by Kevin King's tutorial on the leatherworker forum, I wanted to try this with some nice soft lambskins that were a special buy at Tandy. I sure learned a lot! First of all, the lambskin seems to be a bit too thick for this job. I guesstimate it's around 3-4 oz, like tangerine peel. It was difficult to skive because it's very stretchy.
Yup, the sewing is entirely saddle stitched by hand.
I tried to use hem tape, but the 5/8″ one I bought was far too wide, and gummed up every blade I tried to cut it with. I ended up using crazy glue to hold the roll down while I stitched it. It did the job, but it's messy, and I think I had a little panic attack when I thought I glued my thumb and pointy finger together. That stuff is strong!
2. Filigree – a technique I've been wanting to try for a while. For starters, I used the filigree punches from Tandy (they were on sale this month). They aren't perfect; the shapes are a bit irregular, and they were so dull that I had to strop them, but they did the job! Next, I'd like to try filigree on a floral design.
Filigree in general was pretty easy, but I think I'd go with a thinner leather if I were to do a floral one. 6-7 oz is tough to get through, and it leaves a thick "window" through which to see the pretty background. I chose 6-7oz because I wanted a strong enough leather to hold the martingale dog collar hardware on its own.
3. Setting Swarovski crystals using rim sets. I've been wanting to use genuine swarovski crystals instead of the acrylic ones that Tandy sells, which get scratched up and dull in short order. I bought extra long 4 prong rim sets from dreamtimecreations.com. I used my sewing awl to stab the leather where the prongs go, and used the 1/4″ spot setter on the Tandy hand press. The prongs went all the way through… I'd say it's a success!
Considering how many technique "firsts" I threw in there, I'm happy with how this turned out!