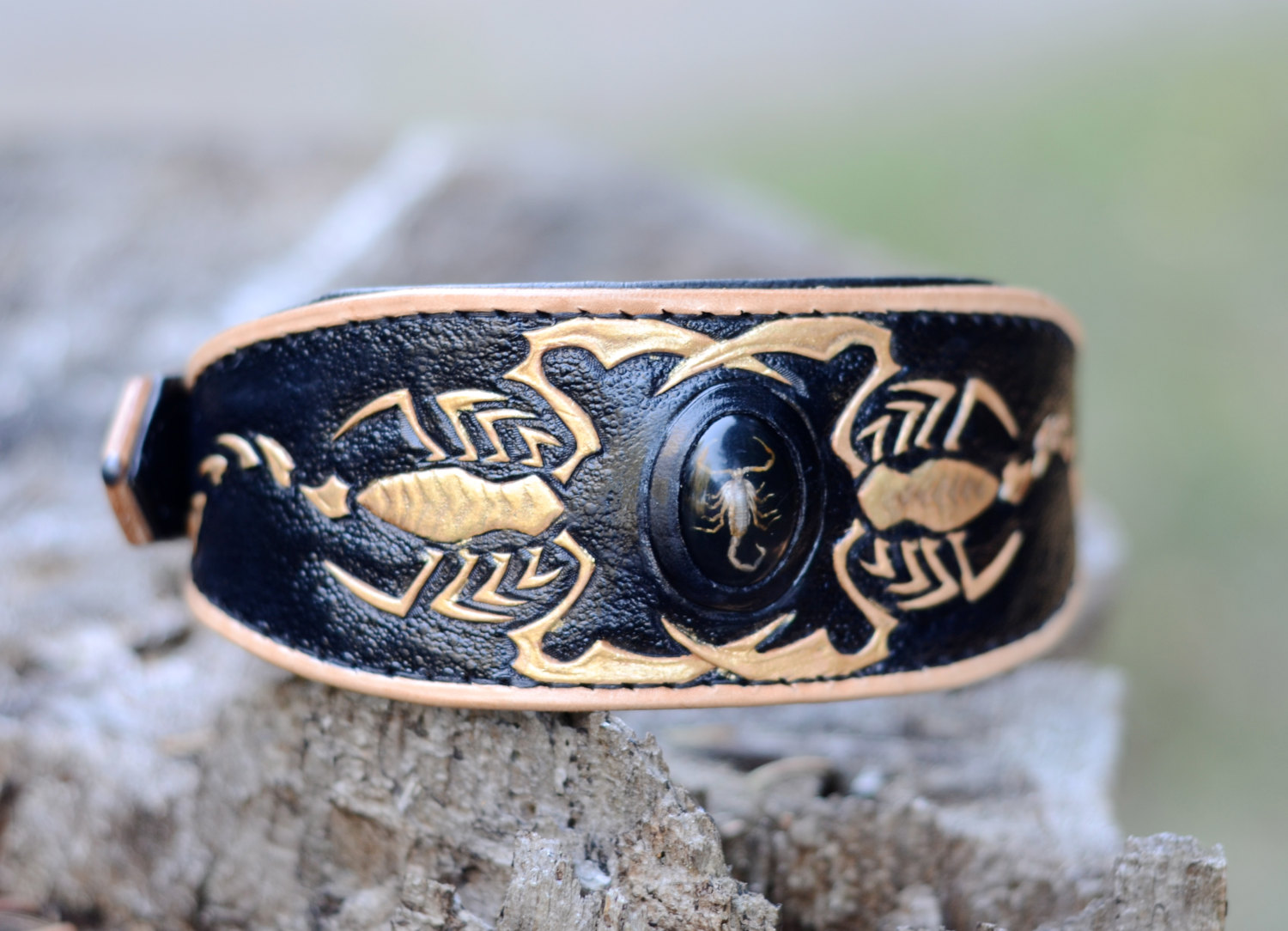 This simple cabochon was so unique and inspiring, that I crafted a whole dog collar concept around it. It's a real golden scorpion which has been encased in a lucite cabochon.. just begging to be transformed into a wearable medium.. in this case, a scorpion dog collar.
Lately, I haven't had much time to design and craft new designs of my own imagination. The fire kept me distracted for a long time, and when I reopened my Etsy shop, I was lucky enough (or not – as you may see it) to pick up almost where I left off in terms of work volume.
As I've become immersed in the craft, I've discovered (as many people do), that despite years of experience, one continues to research, learn about, and experiment with new techniques and effects to better one's skills. After developing a technique on how to embed cabochons in leather, I naturally researched the varieties of cabochons available. As a result of this research, my inspiration for new handcrafted designs skyrocketed! I'm sure that I'm not the first person to create leather bezels to embed cabochons in vegetable-tanned leather, but no one seems to be willing to divulge their techniques in published medium online or in print. This type of secrecy is very common among leatherworkers, whose main education is through experience and experimentation. I can appreciate this, as I'm proud of the skills I developed myself, and I doubt that there's anyone else in the world who crafts quite the way I do. Today, it's a rare leatherworker who has had the opportunity to apprentice under a master, so you will find that most crafters are as unique in their skills and techniques as they are in their style and vision. This is not necessarily a bad thing, as it separates those who copy the same design and perform the same technique over and over again as they are taught, and those whose imagination can take them to new heights, and to develop new ways of using old tools to craft creations as never seen before.