Watching Game of Thrones (one episode every few days) has been part of our ritual for a few months.
With our two year anniversary approaching, this was an obvious concept on which to base my gift to my husband. The gorgeous spinning Astrolabe in the TV show intro depicts the events from before the story begins, showing the Houses uniting to take down the tyrannical Targaryen King. This artwork is iconic and recognizable as GoT, was already the right shape for the belt, and the design can always be reinterpreted to get the right length for my husband's size. I tried viewing a YouTube video of the show's intro (see below), and screen-capping every scene of the whirling metal hoop. However, despite how long it looks in the intro, I ended up with only about 10 inches worth of content, and the rest was too blurry to be of any use!
After a bit of Internet sleuthing, I found what I believe to be the original artwork by an artist named Henry DeLeon (although his blog is called Henry John). The intricate details on his version made it much easier to map out a design for the belt. The TV show version had some details that his did not, so I added those at the beginning and end. Henry's design looks like it was carved in some sort of metal, and not all of the elements lent themselves well on a leather canvas that is only 1 3/8″ tall, so I had to make some changes to the design. The most important aspect are the scenes with the dragon, so I tried to stay as true to the original as possible on these.
This carving was extremely slow going with all the detail, and I used a teeny tiny 3 hole bargrounder for the whole background (which in hindsight may not have been the most efficient of tool choices, but it does well in matting down all the tiny spaces between the swoops and twirls). I ended up covering the cased leather in plastic wrap, only revealing a couple inches at a time as I got to them. I'm very glad I splurged on an SK-3 1/8″ angle swivel knife, as my cheap Tandy knives would not have been able to handle the tight curves and fine details as precisely or smoothly.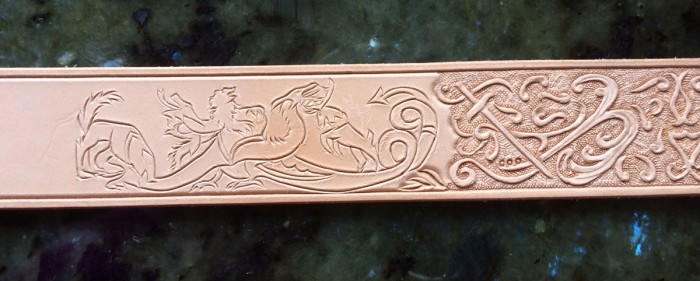 I used Tandy's gel antique, because I wanted to highlight the animals on the scenes in a lighter colour. Normally, I'd prefer Fiebing's antique paste, but nothing can block the stuff that I know of. For those of you who don't know, "blocking" is when you prevent the antique colour from going into certain areas by painting a waterproof coat on those spots. The antique won't absorb there, rendering them lighter than the rest of the design. Although the gel seemed to block well on a piece of scrap, I wasn't seeing any blocking effect on the actual belt itself (ARGH!). Remind me to test products on scrap that was cut from the SAME HIDE as the actual project!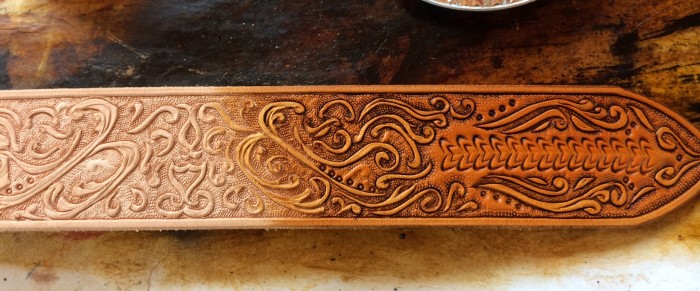 Although the project is looking nice, it looks a little flat, so I dug into my metallic pigments and iridescent paints to give the belt more oomph…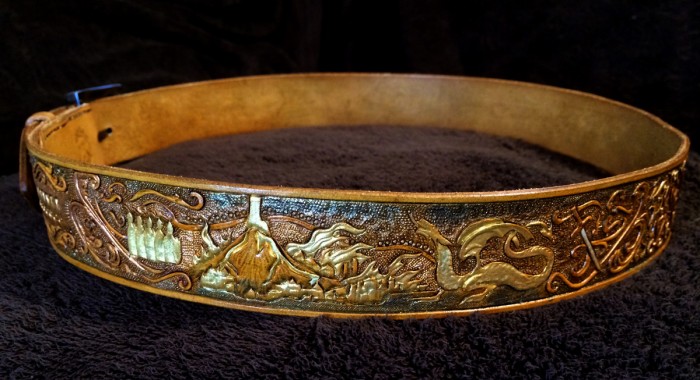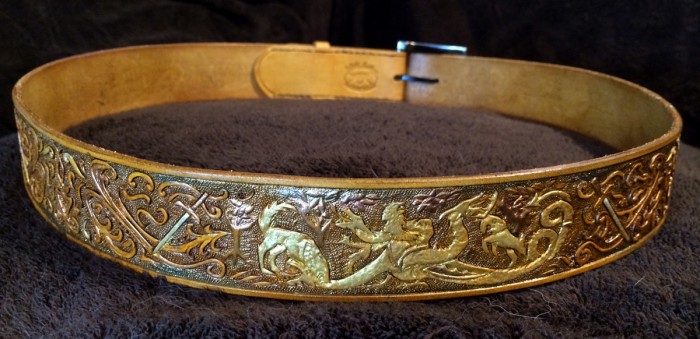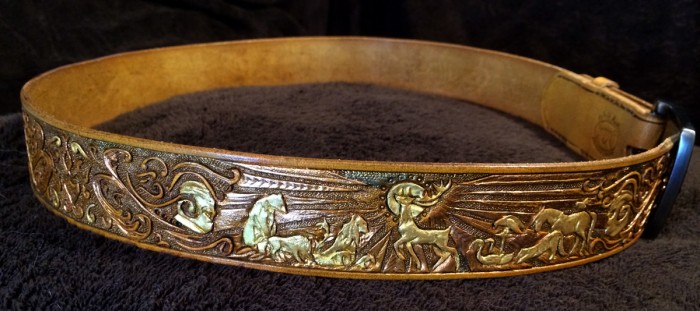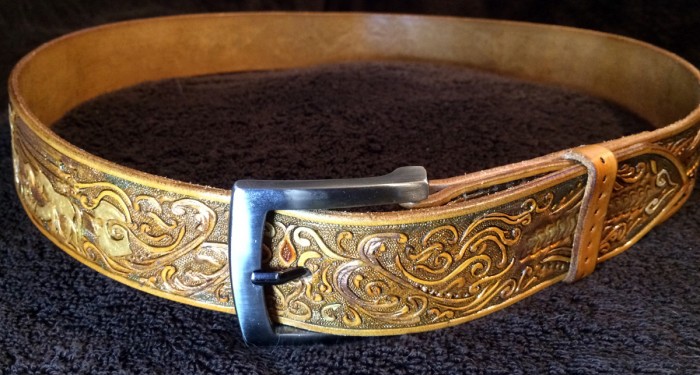 I've been asked if I would make another of these belts to sell, and I'm really not sure if I would want to do so. I was going to make this a separate post on the challenges of selling crafts online, and I may move it to another post later on, though for now am leaving it here due to my expectation of having to explain this to multiple people who won't go looking through my other posts for the answer(s) to their question(s).
There are a lot of challenges when selling crafted products online. One example is last month I shipped out a dog collar to another country. The courier's tracking site shows it as delivered, and the buyer's Facebook page even has pictures of him, his wife, and their dog wearing the collar. The buyer reported to his credit card company (VISA) as a fraudulent transaction, so VISA reversed the transaction. I contacted the individual (actually my husband did as I don't like confrontation), and he told us to come over there and sue him if we think we can get the money. We recorded the call, and took screen captures of his Facebook page, and sent them to PayPal's resolution agents. You would think that PayPal seller protection would cover me in a situation like that – especially as I purchased the shipping label via the PayPal seller tools! Unfortunately, PayPal simply follows what VISA decides with no option for disputing from my end. Due to this, I was out over $150. Should this happen for an item that is going to sell for a lot more (such as a belt like this), the impact to me would be much more significant. I grant that in over 300 sales, this is the first time that it has happened, though one has to consider the potential for situations like this.
Another challenge is that every item is going to be slightly different. When looking at smaller items that take a few hours to craft, the differences are minor and usually not noticeable. When looking at a belt that takes 25+ hours to craft, I'm sure that there will be a few small human errors such as lines that aren't perfectly straight or an edge bleeding while stamping background. This is a part of hand crafting that most people should know to expect, though you never know how some people will react. A dog collar that is unused is easy enough to take back and resell as "ready made" instead of "custom crafted", though a belt like this is less likely to be easily sold if it's already in a specific size.
Back to the original question regarding making and selling another Game of Thrones belt, the first one took me somewhere between 25 and 30 hours (I didn't keep perfect records for this project). The next one would probably take a little bit less time as the design is already done – though I would want to amortize the design time costs for a new item such as this among future items of the same type. Suppose we take 25 hours for the sake of argument, the finished product would probably need to sell for at least $600 for me to feel adequately compensated. On the other hand, I've been told more than a few times that a piece like this is a work of art, and should sell for a lot more since there are so few of them out there, and very few people who are able or willing to hand craft them. Ultimately I believe that it will come down to an individual situation of someone making an offer for a custom crafted item and I'll not be listing it in my normal shop.
If Peter Dinklage – or any of the actors from the show are ever in our area of the world and wanted to pay us a visit, I might consider crafting one (or something similar) just for the awesomeness of having him/them over for dinner!