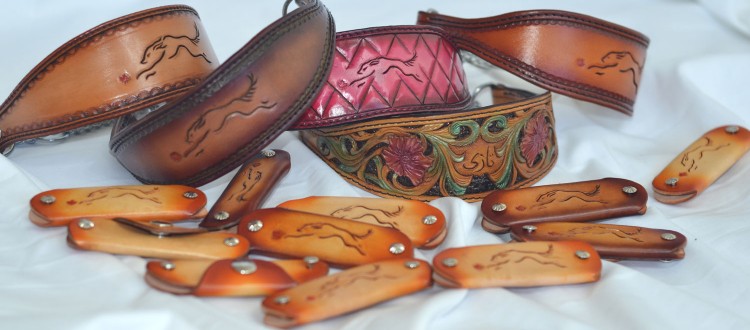 Trophies for the Saluki Club of Canada Specialty of 2015
My leather dog collars are worn by dogs of all sizes in many countries, have been worn by a dog posing in a magazine, and a custom-text collar has even been used as a tool in a marriage proposal. This request was another unusual one.. I was to craft prize collars to go to the winning dogs in the Saluki Club of Canada Specialty of 2015 in Jerseyville Ontario. I LOVE SALUKIS (as my site and store name might suggest). What a unique opportunity!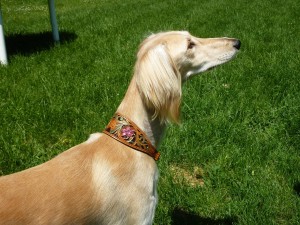 The banner above displays all of the prizes I crafted for that day, which included five collars and twelve leather keyholders. The crown jewel is the collar that went to the Best in Specialty Saluki of the day: Ch. Sirhan Ziyadah Windstorm, pictured on the left. The collar was a bit tricky to craft: it's a triple-layer filigree collar, where parts are cut away from the top layer to reveal the crinkled bronze goatskin beneath, and finished with a thin layer of vegetable-tanned leather for the lining. To best illustrate the spirit of salukis, the Arabic/Persian script for "Tazi", which is the essence of "saluki" in the ancient past, was carved in the center.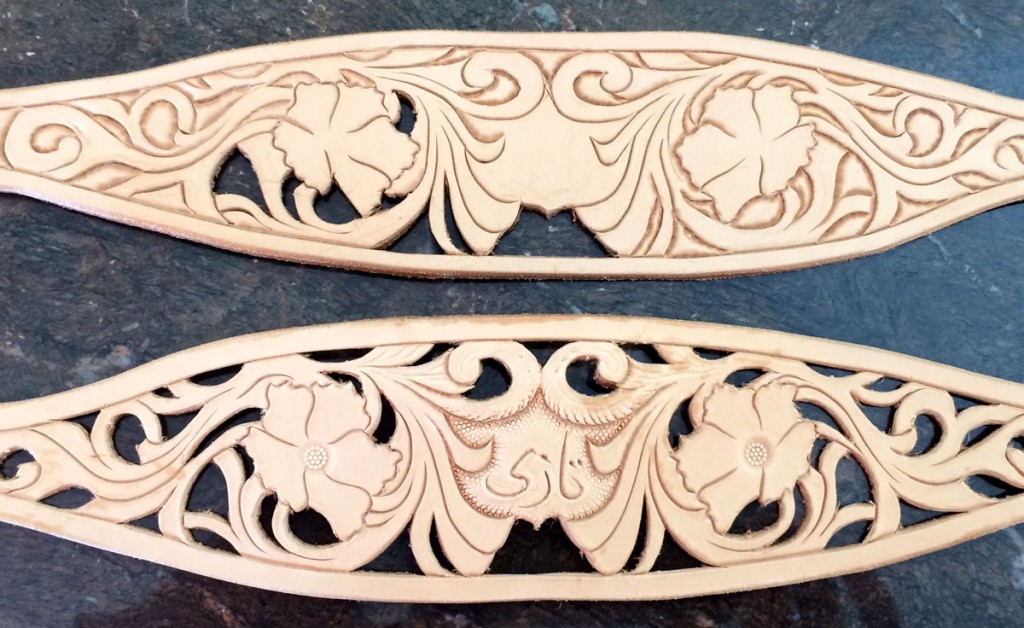 Here's a WIP (work in progress) of the Best In Show collar. At first I tried to craft the top layer with 6-7oz leather, but found it very challenging to cut the filigree. The final piece was cut from 4-5oz leather, which also brought down the bulk thickness of the collar. The final result is pictured below: