I collect leather products as most girls my age collect makeup. Despite having an arsenal of leather finishes, conditioners, dyes, and other goodies, sometimes I end up using the same product over and over again (kind of like wearing your favourite eyeshadow every day despite having dozens more in your drawer). I have five brands of leather finish on hand, so I endeavoured to find the one with the best water repellent effect. As you can imagine, protecting a veg tan leather project from water is key in maintaining its beauty, and a good leather finish will help it last that much longer. I have a background in science, so I'm going to treat this is an informal, fun, and quick study (although I forgot to set up a control… shhhh)  😉
I've been writing this post in bits and pieces, as I'm in the middle of the Christmas rush with orders. Hopefully things will slow down enough in January to post more often!
After seeing my initial results, I ordered the finishes in the photo from best to worst (A to E) for the photos.
[logo size="25px"]Materials and Methods:[/logo]
Leather Finishes:
A. Eco Flo Professional Finish in Clear Gloss. Water based (re. acrylic).
B. Fiebing's Acrylic Resolene, diluted 50/50 with water. Also water-based. Typically used watered down (for good reason, I tried it full strength once, and it cracked and flaked off).
C. Angelus Water and Stain Repellent, a silicone-based spray. I believe it's meant to be sprayed on as additional protection, but I was curious how it would hold up against the leather finishes.
D. Fiebing's Saddle Lac. A type of lacquer that makes the room smell like a chemist's fume hood. I'm too lazy unable to find an ingredient list, but it definitely smells flammable.
E. Zelikovitz Professional Top Coat in Satin. Another water-based finish similar to the Eco Flo Professional Clear.
Why these brands? They were carefully chosen based on the diversity of ingredients, uses, and peer reviews I happened to have them on hand. I have an addiction affinity to trying new leather products. That said, these five brands are very different in terms of ingredients, so they're a great assortment for comparison. Each finish was applied as a single coat on a scrap piece of veg tan leather, allowed to sit for a minute, then blotted with a paper towel. The amount water absorbed into the leather was eyeballed by how much the leather darkened.
[logo size="25px"]Observations:[/logo]
Initially, the droplet of water remained on the surface for each strip. After blotting, the amount of water darkening on each strip was observed: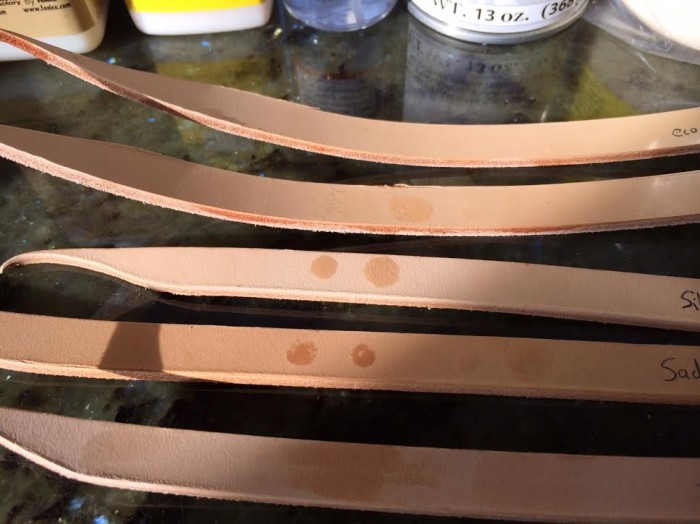 A. Eco Flo Professional Finish in Clear Gloss – Hardly any stain at all
B. Fiebing's Acrylic Resolene, diluted 50/50 with water. A small amount of staining.
C. Angelus Water and Stain Repellent, a silicone-based spray. Initially, no staining. The droplet floated on the leather, and then slowly began to absorb.
D. Fiebing's Saddle Lac. Absorption began in splotches, which expanded.
E. Zelikovitz Professional Top Coat in Satin. Absorption began immediately. Produced the darkest and largest stain.
[logo size="25px"]Discussion:[/logo]
I did NOT expect the Eco Flo product to produce the best results. Most leatherworkers on the leatherworker forum seem to despise the brand, a feeling that I can agree with after having made brand comparisons with their other products (not published here, sorry! I might repeat those experiments for the blog in the future).
Unfortunately, my favourite product up until now has been the Zelikovitz Pro Finish in Satin, which I've been using on the vast majority of my projects. This product came in last! This and the Eco Flo product were very similar in composition, so I expected them to behave similarly. Nope. The Eco Flo brand is a glossy finish, and the Zeli brand is a satin finish, so it would be interesting to do another experiment on whether matte, satin, and shiny finishes within a brand produce the same waterproofing results.
The Angelus water repellant seems to be a good product for added protection on a leather project that already has a coat of finish applied. It certainly repels water for a short time, which in normal use may help a water droplet to bounce off without having an opportunity to absorb into the leather.
The Saddle Lac looks like a good product, however unfortunately, it's difficult to get a thin and even coat. It was obvious to me that the water was seeping through the small areas that didn't get any coverage.
I would like to repeat this experiment sometime in the future with using double coats of each product. I would also compare them to a control (a strip with no product on it). I also realized I have a few other products to try.. including Tan Kote, Eco Flo Professional Finish in Matte, Mink Oil, and Neatsfoot Oil.