Far over the misty mountains cold,
To dungeons deep and caverns old,
We must away, ere break of day
To find our long forgotten gold.

The pines were roaring on the height,
The winds were moaning in the night,
The fire was red, it flaming spread,
The trees like torches blazed with light.
This was the song both of my brothers sang in tenor and bass voices when the first "The Hobbit" movie was released in Theatres around Christmas 2012. After taking the rest of the family into the theatre with them (having each seen the movie 3+ times), they had everyone in the family singing along, the haunting melody resonating in our minds for months afterwards.
This Christmas, their gifts were a no-brainer. The verses of the much-beloved song were carved into vegetable tanned leather, stamped with a pleasing border, and a Smaug dragon was carved on the top. The font is an "elvish" font, meant to resemble the script used on the One Ring. Having carved the actual One Ring script on many, many dog collars, the flowy characters have become a familiar friend to me that I've come to love carving and drawing. This font is, however, something that can actually be read, rather than the beautiful (but unreadable, to a mere human) ancient fantasy Tengwar script.
I've never done any integration of woodworking into my leatherwork before, but I had a blast sanding, staining, and finishing the wooden plaques and mounting the carved leather on it. The two plaques were made in slightly different colours to differentiate them; one was chestnut, and the other mahogany.
The best part of it all? My brothers' reactions. Steve was already wearing his "dwarven beard", gifted to him only minutes prior.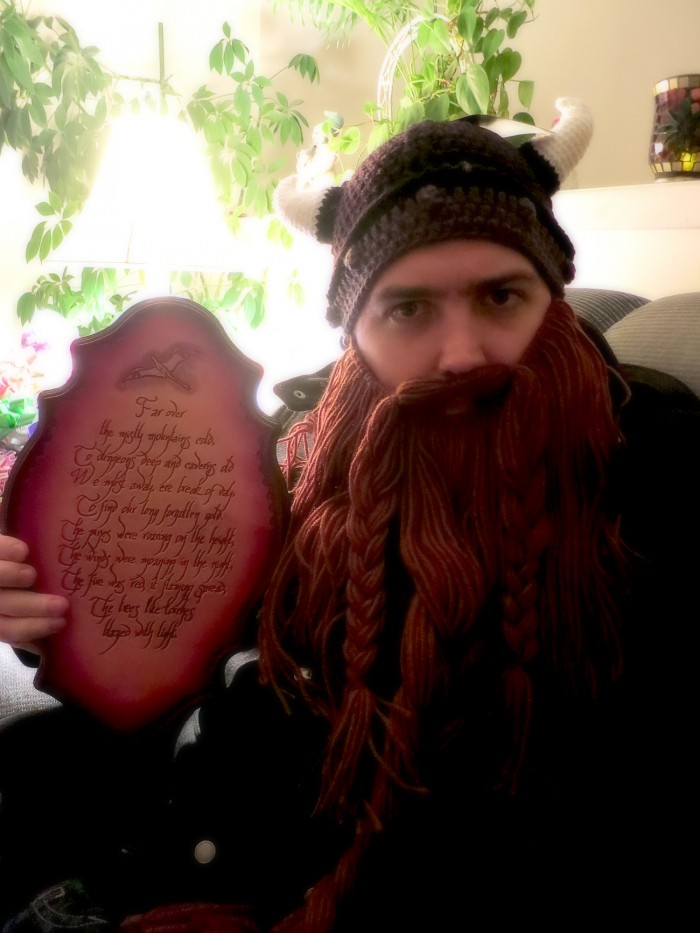 Both opened their plaque gifts at the same time, and there was a moment of silence. Without so much as glancing at each other, their tenor voices broke into "Misty Mountains", and the rest of us listened.
Both were thrilled with their gift (though it took Richard a few moments to absorb the fact that this was indeed handmade leather work), and gushed about how perfectly suited these gifts were to them. I was a bit surprised at the awesomeness of their reaction.. I knew they'd like the plaques, but wow! That's the reaction that one would hope to receive when giving a gift that truly took a lot of thought and effort.
The next day, we went out to see the Desolation of Smaug.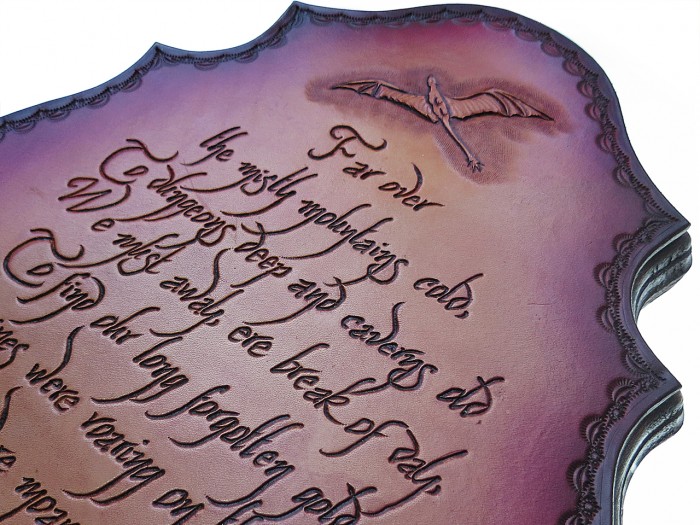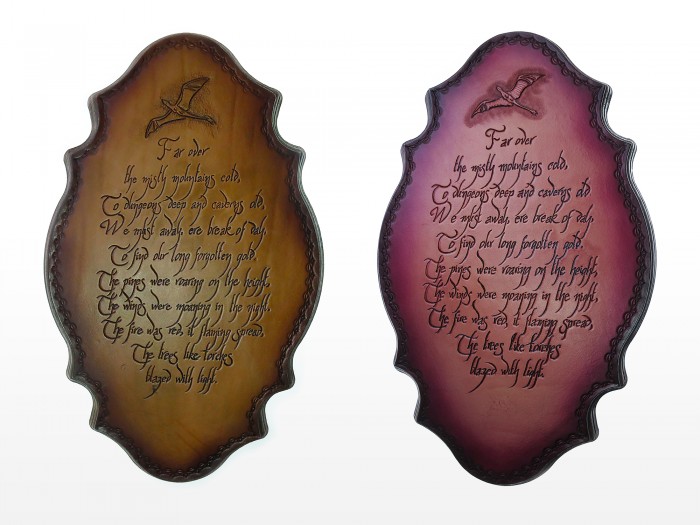 For those who are interested in the technique, I've crafted a few more with other themes (10 year wedding anniversary commemorative plaque, and a birthday plaque), and will video the next one that I craft for my next leather working guide!