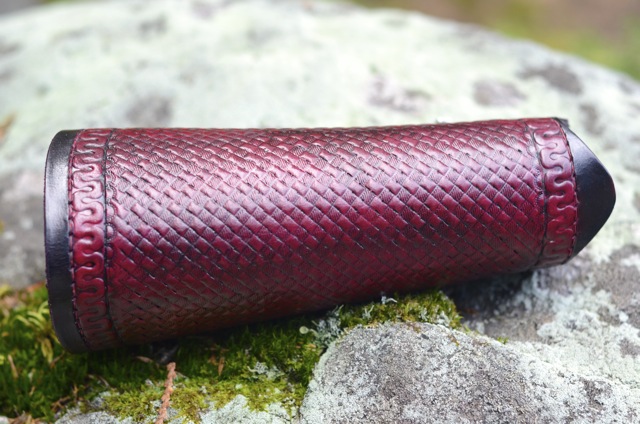 Legolas from Lord of the Rings is so sexy with his longbow, and I never thought I'd have the opportunity to shoot a bow myself, let alone own one. My husband is into the Archery hobby, and proposed that we explore it as a couple, using compound bows. Despite having our hunting licenses, we doubt we'll be shooting any Bambis.. I can't justify killing a deer as someone who has studied Animal Welfare (and who as a beginner would be very likely to miss the vital organs, especially at first). So, just foam targets for me! One of the challenges with archery is that the string can sometimes recoil to strike your forearm during shooting… a very painful experience that is proportional to your bow's draw weight. This is the reason why most archers wear armguards, or archery bracers, to protect themselves in such an event.
Traditionally, these are made of leather, a material that I'm quite familiar with! However, this is a project that doesn't parallel anything I've made before. As my husband has been asking for an archery armguard for months, I decided to make this project into an anniversary gift. We started by wrapping a large piece of paper around his arm to determine the basic sizing, and then cutting the design on cardboard (folded in half to keep both halves symmetrical).
Below is our bracer, having been freshly cut from our cardboard template.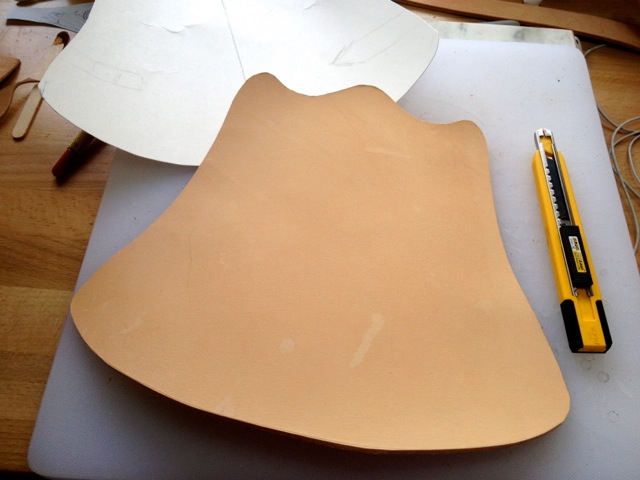 Armguards curve over the forearm, so after stamping a basic border and basketstamp design, I used some string to tie it into shape for drying. Vegetable tanned leather develops a sort of "memory" of the shape it is in when it dries. Allowing it to dry flat would preclude problems in securing it into shape around the arm.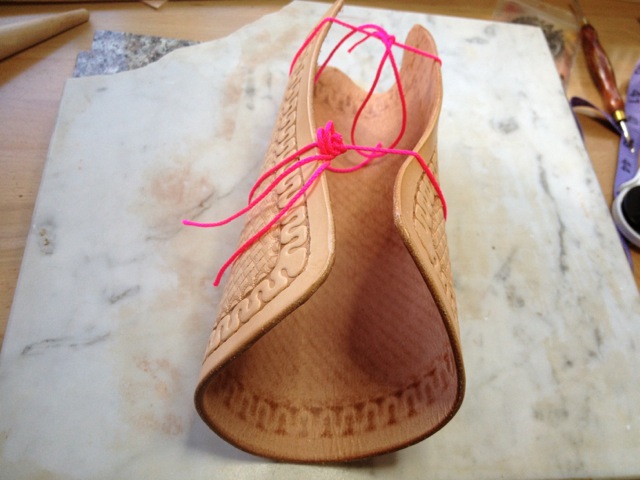 The next challenge is in how to fasten it one-armed. A bit of research showed that many archery bracers are laced shut and closed with cord locks (as you would use to tighten the hood of a winter jacket). This seems cumbersome to do one-handed, as most archers don't have a helpful wife on hand to tighten their bracers when they need them. After browsing the hardware section at Tandy, I decided to replace one eyelet with a lace hook, which will allow the user to hook and unhook a loop of lacing one-handed. I feel like a genius!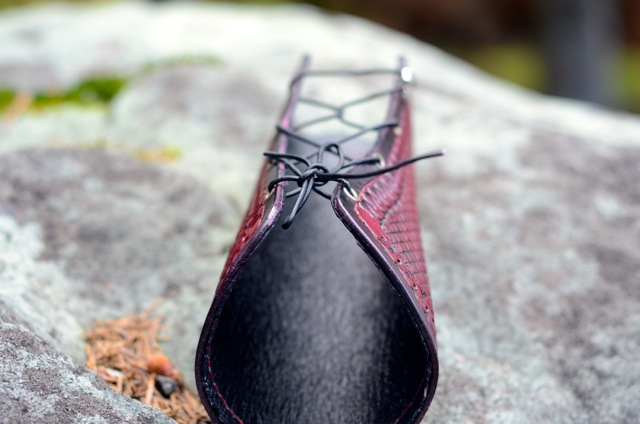 Lastly, I chose to line the bracer with pigskin for looks and comfort. I'm not thrilled with how this turned out, as the edges did not meld together as expected. My next rendition will probably have a rolled or folded edge.