I find it inspiring and informative to look up other artists' workshops. I can imagine them at their workbenches, toiling (or in my case, tooling) away to their favourite music, the hours soaring by, completely lost in their craft. Peter Main's leather workshop continues to inspire me! While I wait for the finish on my current batch of dog collar orders to dry, I decided to photograph and share my little slice of leathercraft paradise. Enjoy!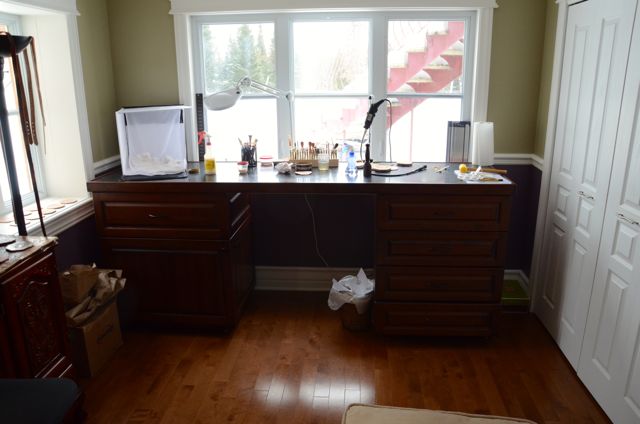 I took over a spare bedroom for my studio. I made the move after my hobby began to take over the kitchen… I had plastic totes around the table, which was perpetually cluttered with leather "stuff". I love having the space to spread out, with plenty of cupboards, drawers, and even a closet to store my tools, liquids, and leather. I have a lovely view of the Laurentides mountains, with the entertaining sight of my Saluki dogs as they play in the fenced yard. The workbench is 8 by 3 feet and the top is made of granite. It's at elbow height so I can work comfortably while standing or sitting in a draft chair.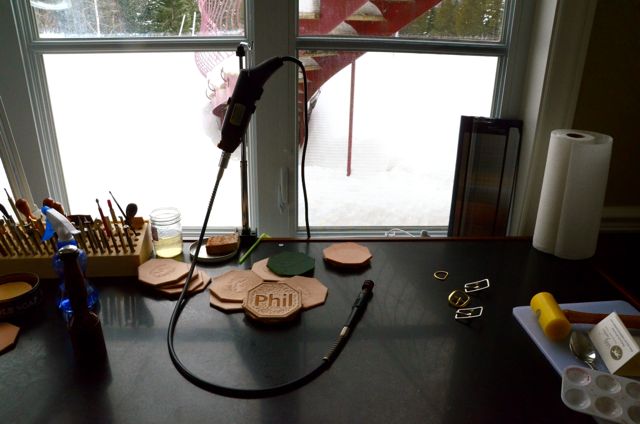 I sometimes use a dremel to expedite the edging process. The tip is made of cocobolo wood and is nicely contoured to the thickness of leather I usually use. With a little saddlesoap, it slicks the edges in no time!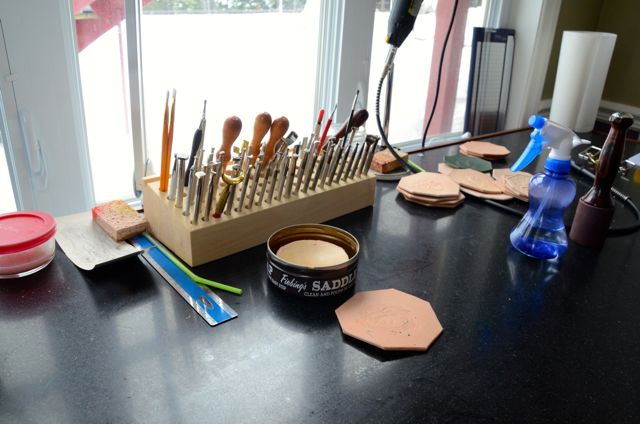 Most leatherworkers will confess to being tool junkies, and I'm no exception. It's not easy to find stamps to my exacting standards. Most of mine are from Barry King (when business is booming, I import them from Sheridan, Wyoming, duty fees and all) or Hidecrafter. I try to avoid the Crafttool brand, as the quality is… meh. I'll make another blog post sometime comparing my Crafttool and Hidecrafter basket stamps, so you can see what I mean by this. In the photos I'm working on a coaster project with my maker's stamp. The maul is made by Ed the Bearman, who also made the cocobolo dremel burnishers. The quality of the maul is outstanding, and I find I get a crispness in tooling that I was not able to attain with the standard Tandy mallet. It took me a while to build the arm muscle to hold this heavy 16oz thing up for any length of time! (Yes, I have noodles-for-arms).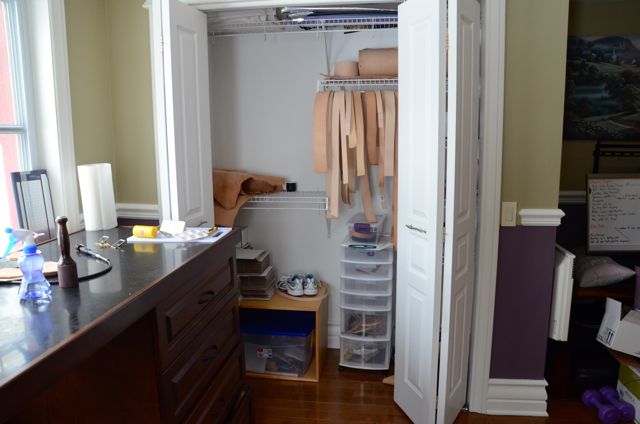 The closet is where I store the majority of my leather. Light can discolour leather, so dark storage is key in maintaining its colour and preventing "tan lines". I cut strips in a variety of widths and weights so I have them on hand when I need them.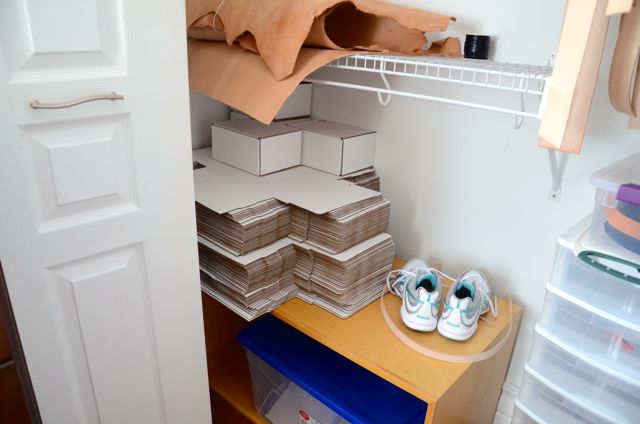 I also store my shipping boxes in here, ordered in packs of 100.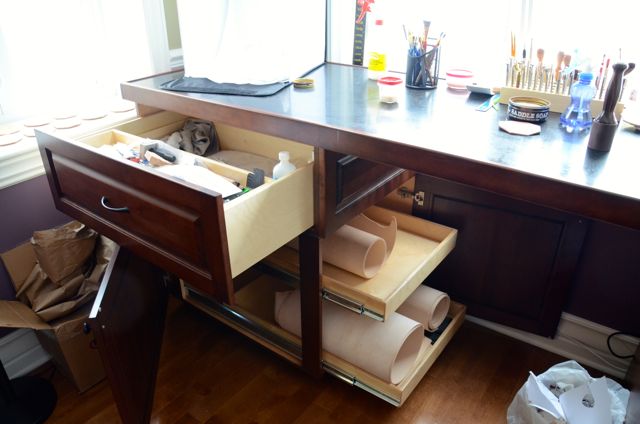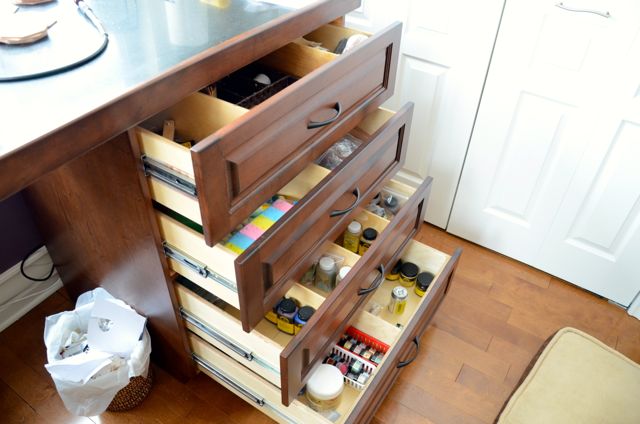 There is also plenty of storage within easy reach of the workbench.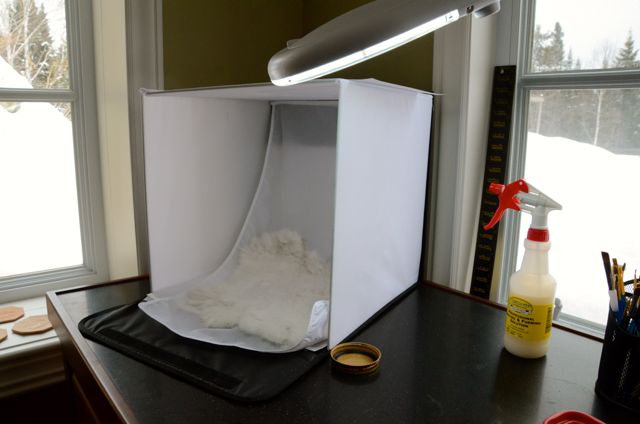 While I prefer to photograph my creations on a rock formation in the backyard forest, it's simply not feasible in the middle of winter in 4-5 feet of snow. Thus, the lightbox is used for photographing the finished treasures on a clean white background. The table lamp can be maneuvered to angle for the perfect lighting. I've also started experimenting with photographing on white rabbit fur to lend the photograph backgrounds an interesting texture.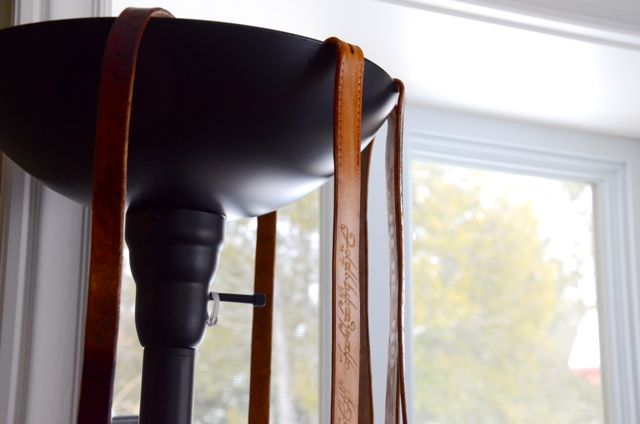 I have found the standing lamp fixture to be perfect for hanging freshly dyed or finished dog collars to dry.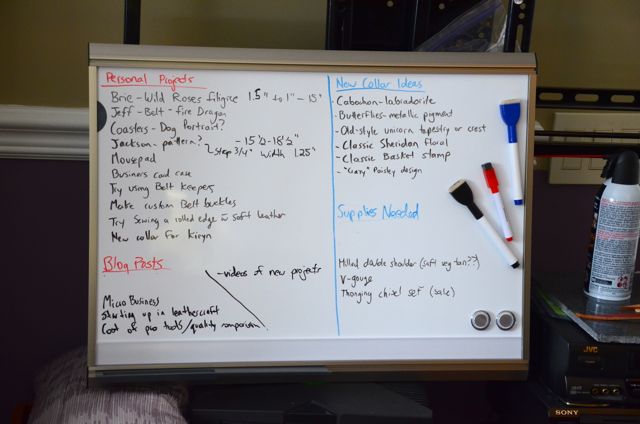 With 5+ Etsy dog collar orders on the go, it can be a challenge to stay organized! This is just one of my whiteboards, the one with personal projects and reminders for supply reorders. The other whiteboard (not pictured) is reserved for Etsy orders so I always stay on track.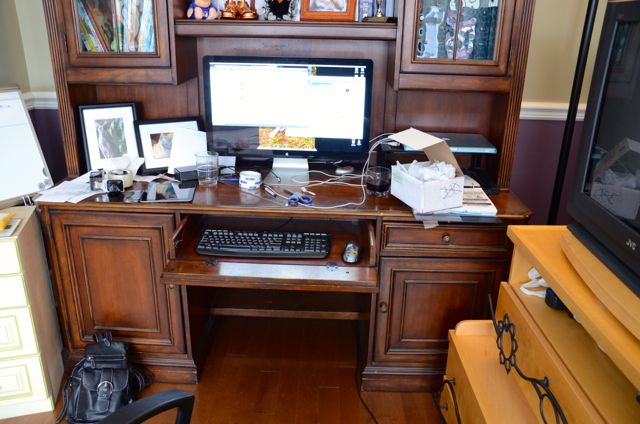 To run an Etsy business, the requirement for a computer is obvious. Mine is so much more than that. It's also my research station, my shipping station, and my photoshop/design station. I use a trusty Mac that gives me far fewer headaches than my PC.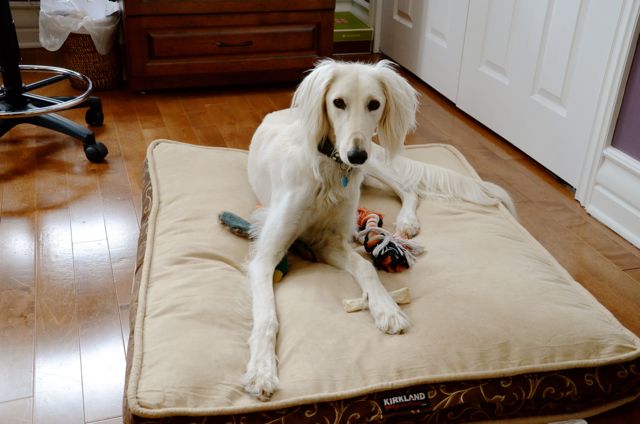 One of my furry studio companions… the floor is covered in dog beds to accomodate their wanting to be near me during my tooling hours.
Overall, I'm ecstatic with the wonders of the workroom that I have, and the only thing I would change is moving the pieces of furniture that we have no where else in the house to put at the moment.